This shop has been compensated by Collective Bias, Inc. and its advertiser. All opinions are mine alone. #PlayWithPlaymobil #CollectiveBias
A quick and easy DIY Firefighter Costume is the perfect homemade gift to accompany the new PLAYMOBIL Take Along Fire Station.
DIY Firefighter Costume for Imaginative Play
There are certain toys that you remember from your childhood. Toys that captured your imagination and offered hours of play and possibility.
While I'm sure my parents bought me gimmicky toys and even electronic toys, those are rarely the ones that I wax nostalgic about or get excited to share with my daughter.
The ones I remember the most are the ones that were open-ended, with little details to discover that drew me deeper into my imaginative play. The toys that I could really immerse myself in and allowed me to create the story – they didn't prescribe what kind of play I could engage in.
I remember hours and hours spent playing with my PLAYMOBIL sets, especially the Large City Zoo set with it's perfect mix of little animals and small human characters, plus all of those intricate details like picture postcards for sale at the zoo gift shop or buckets of fish for the penguins.
On a recent family trip to the zoo, I remembered my childhood PLAYMOBIL set and got to wondering if they still made that set or if it was outdated, like many of the other things of my childhood. (Apparently, my winter gloves with different characters on the fingers are worth a small fortune online…)
I was so pumped to find the PLAYMOBIL City Zoo at Walmart, along with many other new offerings like the PLAYMOBIL Take Along Police Station, PLAYMOBIL School Bus, and the PLAYMOBIL Ghostbusters™ Ecto-1 – a wide variety of both realistic and fantastical play sets.
It took me about 10 minutes in the Walmart toy aisle to finally decide on the PLAYMOBIL Take Along Fire Station and the PLAYMOBIL Large City Zoo. (At least to start with!)
You can also purchase these PLAYMOBIL playsets online by clicking the below image: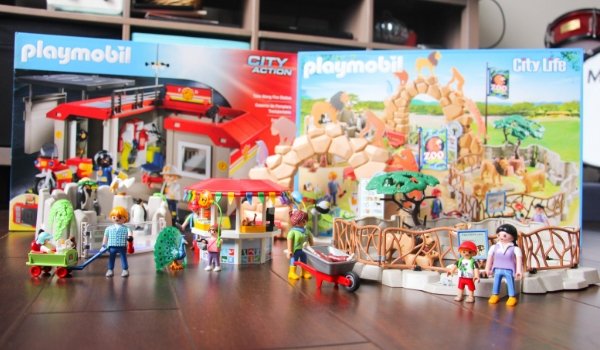 I figured the Fire Station would be the perfect option to take to grandpa's house and share with her cousins (since it is portable and they are just as obsessed with firefighters as she is) and the Large City Zoo would be a nice addition to our playroom.
Of course, I couldn't just send the Fire Station as-is, I had to take it up a notch and make a couple of DIY Firefighter Costumes for the kids to wear as they played with it!
I made two pretend oxygen tank backpacks and Ella helped me make two firefighter paper hats. Safety glasses helped round out the look. (I also wanted to add a snorkel "breathing mask" but Ella was not as impressed by that idea.)
How to Make a DIY Firefighter Costume
To make a DIY Firefighter costume, you will need:
Two 2L pop bottles
Black spraypaint
Yellow, red or orange duct tape or washi tape
Red or Black ribbon or shoelaces
Paper plates
Red paint
Silver or gold paint
Paintbrushes
Scissors
The oxygen tanks are a bit technical and use grown-up craft supplies (spray paint and strong tape), but kids can really take the reins with the paper plate firefighter hats.
Have kids paint a small firefighter badge or symbol on one edge of their paper plate, if desired. (As shown.)
Paint the rest of the paper plate red, and let dry.
We also painted the bottom edge of the plate, but that is optional.
Leaving a 4″ piece of the plate attached to the edge (across from the symbol), cut along the ridge of the plate, about 2″ in from the edge. Fold up the inner circle so that it stands perpendicular to the outer edge of the plate. You can cut it to a shape resembling a firefighters hat or leave as a circle.
For the oxygen tanks, remove labels from the pop bottles and spray paint black.
Once the paint is dry, use tape to connect the pop bottles together. This also adds a design element to the oxygen tank.
Cut the ribbon to form a large loop that you child can move their arm in and out of. If the loop is too big, you can tie the ends or add a clip – too big is better than too small!
Use a 5″ piece of tape to attach the loop to the back of one of the oxygen pop bottles. Repeat, forming a second loop and attaching.
You can also draw a firefighter symbol or write "FIRE DEPARTMENT" on the oxygen tanks. I actually used chalkboard paint so we will be able to change out what the tank says.
The firefighters at our local fire station loved our homemade costume and even let Ella climb up into one of the trucks with her "gear on."
One thing I really love as a parent is that all of the kits – from the large City Zoo to the Take-Along Fire Station – have enough interactive pieces and parts that multiple children can play with each set at a time.
Engaging in imaginative play with PLAYMOBIL play sets helps children develop both cognitive and social/emotional skills (while also developing strong finger muscles needed for writing). They can play out scenarios similar to situations they encounter in real life and work out ways to deal with them in a non-stressful environment. They can work with siblings or friends to create rich storylines and create a magical world of imaginative play.
Another thing I'm really enjoying is how Ella can just take out one part of a play set and engage with it for hours.
Just the other day, we read a book about a penguin ballerina and she immediately took out the penguin enclosure from her zoo play set and created a ballet with her penguins, and then started creating individual personalities for each of them. (There was quite the dynamic between the pelican and penguins, too! "Fish scooper!")
Not only did we get a lot of different pieces and set-ups in our two play sets, the quality is also phenomenal. Everything was sturdy and built for play while also giving such strong attention to detail.
Even though we've been playing with this set for a couple of weeks now, almost every time we take it out, Ella is thrilled to discover something new about it.
…
Click here to check out more creative ideas featuring Playmobil.
For more DIY Costume Ideas, check out our DIY Unicorn Headband or our Madeline Hat Craft.
PS - if you liked this, you might like: