Printable Recycling Game for Kids
This shop has been compensated by Collective Bias, Inc. and The Coca-Cola Company. All opinions are mine alone. #HonestKidsRecycle #CollectiveBias
Today, I'm sharing with you a fun printable recycling game to get kids excited to recycle and take care of the Earth. You can download this printable game to play with 2-4 players.
Printable Recycling Game
Children have an innate caring nature, and when they are given opportunities to step up and take care of their environment, they can amaze you. (And shock even the grouchiest naysayer.)
When teaching kids about the Earth and our responsibility to care for it, I find it's best to stay away from any overwhelming concepts or topics, and instead focus on actions that they can take in their daily lives to make a difference.
Showing them how to recycle, or how to pack a zero-waste lunch, are tangible ways for them to take charge and take care of their environment – and it builds children who are resilient and take action when they want to see improvements.
I was so excited to partner with Honest Kids® on this post as they are the only juice box or pouch that I buy for my daughter. Not only are they sweetened with organic fruit juice, they also have an awesome recycling program so even if your area doesn't allow for the juice pouches to be recycled, you can still send them back to Honest Kids, free of charge!
After stocking up on Honest Kids® juice at Walmart, visit HonestKidsRecycle.com and download your free shipping label to return your empty juice pouches – you can even use the box the juice came in to return them! Kids can help with this as well, letting them learn early how to be a good steward of the Earth.
You can purchase your own Honest Kids® juice by clicking on this image: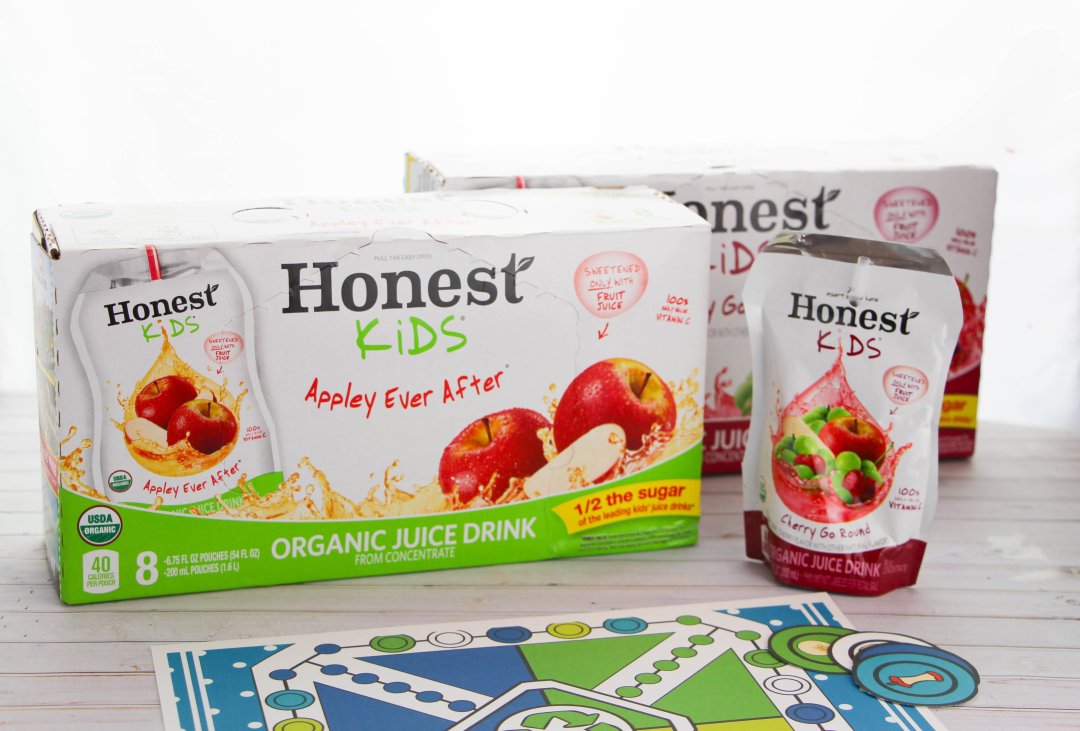 (Shown here are Honest Kids® Organic Appley Ever After® and Cherry Go Round®. We also like the Pink Lemonade variety, as well.)
How to Encourage Kids to Pack a Zero-Waste Lunch
My daughter has been helping make her own lunches for the past year and it's been great for her confidence and ensuring that she eats everything that is sent. She can make sandwiches and wraps, and even reheat leftovers in the microwave with supervision.
Once a week – usually just after grocery shopping, we portion out veggies, sauce, yogurt, smoothie powders and snacks into small, single-serving containers to be stored in one of two shoebox-sized containers. One container is stored in the fridge, the other in the cabinet directly under where she prepares her lunch.
All we have to do in the morning is pick out a couple snacks from each of the two containers, prepare her main lunch, grab an Honest Kids juice pouch, and we are on our way!
How to Play Race to Recycle
To help get kids excited to recycle, I created this fun printable Recycling Board Game (with the help of my friend, Kim).
The aim of the game is for all players to collect ("recycle") a token from each category of recyclables:
tin/aluminum
plastic
glass
paper/cardboard
compost
You will need a die (singular dice) and game pieces, or small objects to serve as game pieces, to play this game.
All players start in the center of the board game and use a die to move around the board. (Remember this game is for 2-4 players.)
When a player lands on a large circle, they take a matching token piece.
Continue moving around the board until you have collected each color/category of token.
Once you have collected all five categories, travel up one of the "spokes" or paths to the center to recycle your tokens and win the game!
Tip: you can laminate the tokens and game board to make them last longer – I did after taking pictures (as I didn't want the shine to obscure the images).
Pin this fun Printable Recycling Game for Kids:
Grab your free printable recycling game for kids by clicking here.
This printable game gets kids excited to learn how to recycle and be responsible citizens. It's great for at home or in the classroom!
For more awesome free printables, check out our Printable Road Trip Games or our Healthy Eating Game Printable.
PS - if you liked this, you might like: