Waldorf Rocker Board Review
I mentioned back in September that I was traveling to pick up some exciting new materials that I couldn't wait to share with you — and, finally, I get to share with you about my favourite material that we picked up!
I ordered this beautiful Waldorf Rocker Board from an American Etsy seller, Open Ended Creations, after much delay and deliberation on my part, and I honestly couldn't be happier with my purchase.
I love the beautiful simplicity of this piece. Placed in our home, it blends in while making an intriguing architectural statement. To an adult, it may simply look like a piece of curved wood. But to a child, it is…
A slide.
A balance beam.
A bridge — to another world or with trolls living underneath.
A teeter totter — solo or with a friend.
A boat.
A cradle.
A seat.
The moon.
Ella on a pirate ship
The board is incredibly light but very sturdy — it can hold up to 200lb, and I tested that out myself by jumping full-force on its arc. Ella can easily move it around her playroom, re-imagining its purpose as she shifts from different play modes. Its incredible to see her project her own play ideas onto this open-ended active toy, which she has not yet realized can be used in block play, or story time, though she has shown interest in using it during our yoga practice. (If she doesn't figure that out in time, I will "stage" a story on it with her peg figures and perhaps a scarf, but I want to see if she will come up with that play opportunity herself.)
Beyond its child's play uses, I have discovered my own uses for the Waldorf Rocker Board. I have found that it really helps during my morning stretches by laying it arc-side up and gently stretching my back alongside its supportive curve, and it is really fun to integrate into yoga practice, balancing activities, or even plain old crunches, adding a new dimension to my work-out! I love how the Rocker Board will continue to evolve in its uses for her as Ella ages and that she will never "outgrow" this toy. How many other materials can we truly say will last a child from toddlerhood through active adulthood? Despite the daily active play that the board has received since we brought it home, it does not show any signs of wear.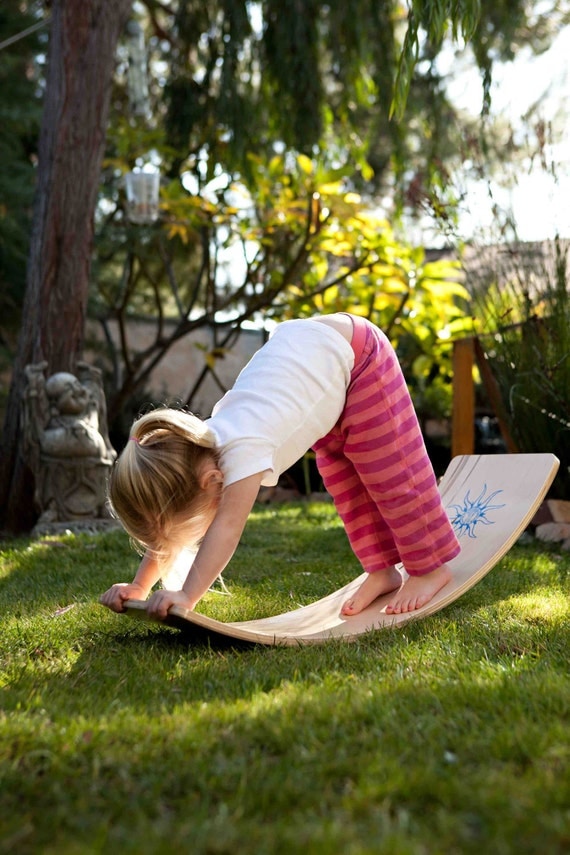 Image from Open Ended Creations website, showing yoga use
In one month, Ella has already gotten more use out of it than several of her other "active" materials, and I can only see that interest and involvement increasing as the days grown colder — and I love that she will have a focused and constructive physical outlet indoors during our Canadian winter! I also love that by its unfixed nature, The Board replaces the "need" to purchase several other one-function active toys, and how much space is saved (and remains attractive) by not purchasing all of those other toys, not to mention how environmentally-friendly the Board is in itself and in its replacement of all of the plastic, age-specific other materials.
When I first discovered the Waldorf Rocking Boards, I thought they were a bit expensive, and being a sole-support parent, I really take my time on what I consider "investment" purchases. The Board is $120 US, but I can honestly say that it was well worth the investment, especially now that I see how many years of use we will get out of it.
PS - if you liked this, you might like: